Extended remote working resulting from the pandemic has meant that running traditional face to face workshops or stand-up meetings with clients has not been possible. The need for these types of sessions have not gone away and there has been a requirement throughout the pandemic to try and use different tools and innovative methods to replicate the energy and creativity you get in a face to face environment.

In this short series, we review how some of these tools have helped us get through the pandemic and how they may continue to play a part either as part of continued remote working or improving things as we get back to the office.
Part 2: The digital workshop
Workshops are a great way of pulling people out of their day job and bringing them together in a safe environment to work through a particular business issue or question. Rather than just sitting people around a table discussing the task, workshops need energy to stimulate the enthusiasm and creativity to get the best out of the group. A well run workshop aims to get everyone involved, often putting people into smaller groups in breakout rooms to work on the topic in hand. This allows everyone to have a voice and can contribute to multiple options or views, leading to a better solution.
You will find walls, flip charts, paper, pens, and post-it notes in the workshop facilitator's armoury. So how can we replicate this in a remote working environment?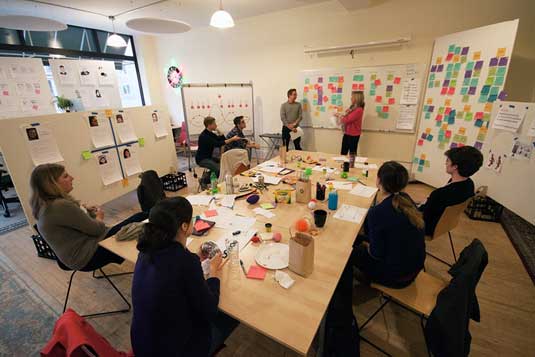 As a standard, we use Microsoft Teams as the video meeting facility. Recent updates have incorporated the ability to have breakout rooms which now allows us to split up the group into a number of smaller sub-meetings. That is part one of the problem solved, but how do we replicate the creative aspects of the workshop and get everyone involved?
We have trialled some similar online tools to assist with this one, but settled on Miro (www.miro.com), a digital collaboration/whiteboarding space with a range of easy to use features. Miro is a very versatile tool and can lend itself to multiple uses. It contains a suite of ready-made templates and examples, but again, we have kept it simple to replicate the space provided by walls and flip charts in our typical workshop.
Miro offers a free version with unlimited members but is limited to three editable boards and some functionality e.g. timer is not available. To upgrade, the cost at the time of writing, is $10 (£7.35) per user per month. We use the paid version to access the additional features, which aren't essential but we find them useful.
Essentially it is a huge white board with a simple tool kit of shapes, text, icons, and even a range of digital post-it notes etc. which allows you to create collaborative exercises. You can treat it exactly like you would a room with walls and flip charts. Creating shapes and text is very similar to using apps like Visio or PowerPoint, so shouldn't take too long for you to get going.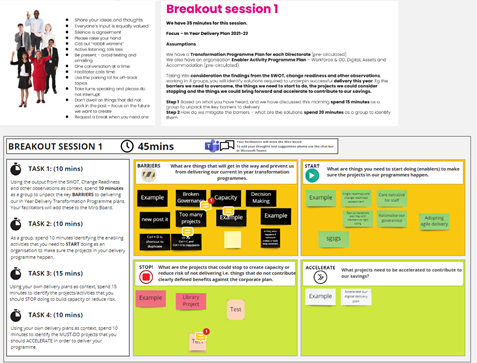 When we design our 'boards', we tend to pull together all the information for the task into a common area and then build up the task. Given the huge space, multiple tasks can be built onto the same board and you can visit each one in turn. Once designed, the board can be duplicated so you have a separate board for each breakout group.
You can invite members to the board and once they have access, they can navigate and add to the board. We usually aim to keep the tasks simple i.e. get people to contribute by writing their ideas on a digital post-it note and moving it to an area of the board. As a facilitator, you can spot where members are, and what they are doing, as their cursor is named. It's a great way to keep people on point.
Our verdict – Miro is an excellent tool that is relatively easy to set-up and learn. It is free to use but the paid version does offer some excellent additional functionality. We have used both collaborative and presentation only formats in workshops and both have been successful. It is a great tool to interaction into an online workshop environment.
We are not sure if it has a place in a face to face only workshop and would probably revert to walls and flip charts, however given that for now, remote working is here to stay, we think this can certainly help blend face to face and remote workers in a single meeting environment.
If you have used similar tools, let us know as we are keen to try new things and share the knowledge.